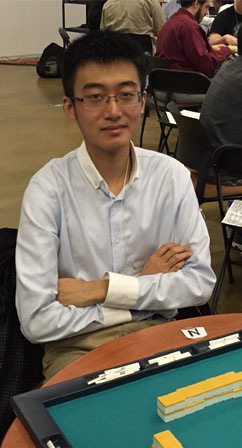 The first Rochester Riichi Open, officiated by the Nine Gates Mahjong Club of the Rochester Institute of Technology, concluded with Yijun Xiong of New York winning at the final table and securing first place. The two-day event attracted players from both coasts of the United States as well as Canada, with players competing in upstate New York's first-ever Reach Mahjong event.
We spoke with Yijun after the event.
Congratulations! How was the event? The tournament was great! This is my first live individual tournament.
How did you get into mahjong? My friend taught me about 5 years ago. He was a big fan of Saki and wanted people to play with him.
Are you part of a club? I am part of a club in Beijing, entitled "麻将部マージャンぶ" ("Mahjong Club"). I am a 4-Dan on Tenhou, although some of our our club members are 6- and 7-Dan. In America, I mostly play on Tehnou ranked or with my friends in a private doom.
Do you go to any other events in the West? I have visited with the USPML via their Meetup Events.
Yijun's unique defensive style racked up a number of offensive winds; during the entire tournament, the largest hand he won was a non-dealer mangan, and he never dealt in to a hand worth more than 2600 pts.
We'll have a more in-depth article with Yijun and his style of play soon enough. Until then, you can peruse the standings on the 2016 RRO page!