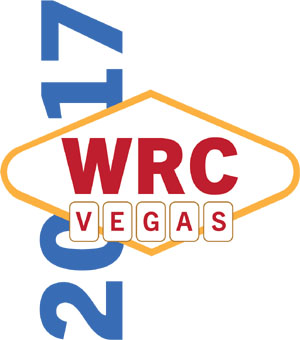 From October 4th-8th, over 240 riichi mahjong players from all over the world gathered in Las Vegas, Nevada for the World Riichi Championship. Combining professional players from multiple Japanese leagues, as well as players from tournaments and leagues across the Western world, the four-day event showcased not only a scramble-into-knockout tournament, but also a side tournament, panels, teaching sessions, and more.
The weekend opened with a meet-and-greet cocktail event, featuring opening remarks from WRC Chairwoman Gemma Sakamoto and USPML president David Bresnick. Players registered, mingled and played ad-hoc games on scatted mahjong tables, met with pros, and were entertained by a singing, dancing, and even mahjong-playing Elvis impersonator.
Day One began early, with players separating into two groups and playing four games, rotating through tables so that no player need ever play another more than once. JPML (Japanese Professional Mahjong League) pros, making up a quarter of the event, provided a high level of play at every table.
After the WRC games completed, events continued into the night, with a "Life of a Pro" discussion with Garthe Nelson and Jenn, two American mahjong pros in the JPML. At night, one of the tournament's sponsors, Jelly Games, hosted a short standalone tournament with prizes in the rooftop lounge, an opportunity that would continue nightly throughout the weekend.
Day Two continued with another four games, culminating in a panel hosted by Benjamin Boas involving the both his journey with Mahjong and the outlooks of mahjong for Jspan in the future.
After the first game of Day Three, the Top 32 continued onwards, with a two-game knockout battle down to two Top 16 games, leaving only the Top 8. The remaining players were invited to compete in a four-game side event, using red fives, seeding in others as they were eliminated from the Top Cut rounds.
On the final day, the Top 8 played twice, leaving a final table of four players livestreamed by Mondo TV. The remaining players were treated to a teaching session, where they all got to play a teaching / discussion game with a pro, who broke down decisions made throughout the game.
The final table was made of of three JPML pros and one from Mahjong Union (Mu). In the end, Tomotake Masaharu of the JPML was crowned the champion.
Special thanks to the World Riichi Committee, the USPML, and all the staff and support that came together to make the event a success!
Standings
Final standings are available on the WRC site
Documentary Trailer
The WRC is featured in Masters of Mahjong!