Western Dragon's second annual tournament "Doragon no Taikai" ran from June 8 to 9, and the top player was Rochester's Ty Kennedy! We had a chance to speak with Justin Dilgard, the organizer of the event and president of the club!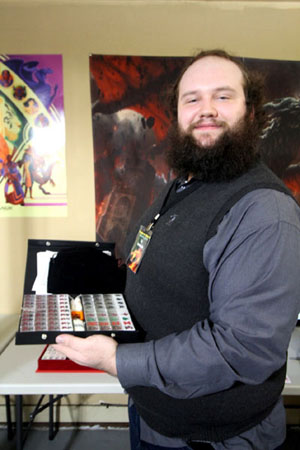 Tell us how the tournament came to be.
Last year after playing a WRC tournament, which Derek (the vice-president of the club) and I enjoyed playing in, we thought it would be nice to have our own tournament with some different rules mostly for ourselves and to provide another tournament option for players in our area. So we ran our first tournament last October just to see if it could be pulled off, and it went surprisingly well. Last year, the tournament was only a 1 day 3 hanchan tournament. This year was a 2 day 6 Hanchan event.
Now that it was over, what was your favorite / the most fulfilling part of the event?
It's hard to choose just one thing, but I would say it was the surprising number of people who attended, the different areas they came from and the meeting of new faces for this tournament.
Were there any hiccups?
There were a few. The biggest one was the seating. I made a spreadsheet a couple months ago that I spent a few hours working on and the file somehow got lost while trying to find it Friday night (And I haven't lost a computer file in well over a decade) so during each hanchan, I did the seating for the next hanchan or two, and there was some overlap of players because of a factor that I forgot to consider while making it on the fly on top of everything else I had to work on while running the tournament. I was kicking myself for that. Also, the central AC in the store broke the day before the tournament, so by the 2nd half of Saturday, it got a bit warm in the tournament room. Since this was the first tournament I ran where Chonbos happened, I had the chonbo scored before the Uma, and was told by some people that it should be factored in in after. At least that's what I should of done considering that our tournament uses sliding Uma instead of flat Uma. I also should of changed our rules for when to flip the Kan dora when a player calls a Kan. Our rules just had it so it always flips after a discard regardless of the type of Kan. I will be changing that for next year along with fixing seating assignments and chonbos.
Where did people come from for the event?
Out of the 25 people who attended (including 2 rep players) we had 8 from Lockport NY, 7 from Rochester NY, 3 from Toronto ON, 6 from Philadelphia PA, and 1 player from Pittsburgh PA who's working on starting up a group of players the Pittsburgh area.
Any big hands? Surprises?
The biggest hand that happened during the entire tournament was a dealer Baiman. Still hoping someone gets Sanrenkou (Three Consecutive Triplets) next year since we recognize that Yaku.
Tell us about the club that put the event on.
Western Dragon Mahjong Club is located at Casual Dragon Games in Lockport, NY (North of Buffalo, East of Niagara Falls). Our club has been around since November 2017. Our club currently has over 40 members so far, plus we have our own dedicated club room in Casual Dragon Games complete with an Auto table, a 2nd regular table for teaching and aux games, literature and nice wall decorations including (But not limited to) a Saki Poster, Mahjong Memes and a signed plaque by Rumi Nikaido. We meet on Saturdays (Plus sometimes other days of the week) to play.
Looking forward to the event next year?
Definitely! June 13-14, 2020 at Casual Dragon Games. 136 Walnut St. Lockport, NY.
Do you have any plans for any other tournaments or events in the future?
I'm hoping we can hold a 3 player tournament sometime in the fall to accommodate newer players in our club who might not feel ready yet to play in a full blown tournament. If it happens, it will likely be a 1 day 3 hanchan tournament. Next year, if we can get enough people for it, I would like to host a women's tournament. I would have to get at least 8 players for it to happen. That would also be a 1 day 3 hanchan tournament.