The Rochester Riichi Open 2019 is complete, and after two days, eight games, and against over thirty other competitors, Philadelphia Riichi Mahjong Club's Justin Toporcer took top honors! After falling to second in the first of the two-game finals, Justin roared back to take first place and the championship! We had a moment to talk to him about the Open: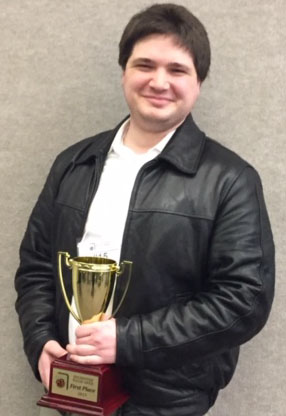 How was the event?
I got to feel the pressure of a real game fumbling around the tiles, and I had a lot of fun. This was the first time I went to a tournament, and I'm sure my group and I will be going to more!
How long have you been playing?
I have been playing off and on starting in college six years ago.
My Philly friends and I love games of skill and chance. One day we found out about a gambling series, Kaiji, and from there we found out about mahjong and started playing during the weekends.
I've played physical games exclusively with the same college buds, but I'm also proud to represent the hooligans who make up the Philadelphia Riichi Mahjong Club.
What would you say your "style" is?
I prefer adapting to how the rest of the table is playing, and I'll throw in a wrench where appropriate. Flow is real!
You were second going into the finals. What was your strategy?
Right, the finals! Shan was clearly the player to beat, but the difference between 1st and 2nd was way smaller than 2nd and 3rd, so I felt comfortable aiming for a win. Half way through the match, Brian earned himself a dealer haneman. It hurt my points, sure, but it also loosened up everyone's style and gave me the chance to call tsumo… and even ron!
Any moments during the tourney that were particularly memorable?
I won't forget getting a chombo in the 2nd round. I was in riichi with an invalid hand. Doing well despite that rookie mistake cracks me up.
I also enjoyed the only round that matched me with a college bud. He's familiar with how I play and kept denying me wins. With 30 seconds left, he said we could play an extra hand if we build the wall quickly! Congrats Matt, you won that round fair and square.
What's your favorite yaku?
All greens for St. Patrick's Day!
Any shoutouts?
Shoutout to Tim Peach, Joe Stevenson, Matt Weiss, and the rest of Philly crew.
Thanks so much, Justin! We'll see everyone at the next Open next year!
Results
| | | | |
| --- | --- | --- | --- |
| Place | Name | Final | Prelim |
| 1 | Justin Toporcer | +25.50 | +85.60 |
| 2 | Brian Tseng | +1.60 | +74.30 |
| 3 | Shan Kuang | -2.60 | +140.20 |
| 4 | Chris Ellis | -25.50 | +117.50 |
| 5 | Ty Kennedy | +31.70 | +39.90 |
| 6 | Noah Bock | -3.30 | +33.20 |
| 7 | Alexander Levin | -12.60 | +54.30 |
| 8 | Arthur McAnally | -15.80 | +70.30 |
| 9 | Mike Lee | +44.00 | +32.20 |
| 10 | Steve Augustin | +1.30 | +29.90 |
| 11 | Justin Dilgard | -18.90 | +33.10 |
| 12 | Patrick Garrity | -26.40 | +26.60 |
| 13 | Michael McLeod | +22.10 | +26.50 |
| 14 | Alexander Boily | +15.10 | +21.70 |
| 15 | Aaron Ebejer | +10.20 | +1.60 |
| 16 | Chris Letourneau | -47.40 | +21.90 |
| 17 | Loïc Roberge | +64.10 | -11.90 |
| 18 | Timothy Peach | -1.20 | -8.70 |
| 19 | Steven Smith | -16.10 | -20.40 |
| 20 | Gaetano Loweecey | -46.80 | -15.90 |
| 21 | Joseph Stevenson | +30.70 | -30.00 |
| 22 | Vinnie Emilianowicz | +27.80 | -35.60 |
| 23 | Nicholas Rhoades | -26.90 | -26.50 |
| 24 | Molly Conley | -31.60 | -52.30 |
| 25 | Estey Gerstner | +38.80 | -69.80 |
| 26 | Gabriel Ocasio | +27.80 | -69.80 |
| 27 | Everett Leo | -22.00 | -62.70 |
| 28 | Matthew Weiss | -44.60 | -73.20 |
| 29 | Patrick Marcil | +34.00 | -97.00 |
| 30 | Brian Mikolajczyk | +19.50 | -83.10 |
| 31 | Chris Scholl | -9.70 | -89.50 |
| 32 | Taylor Heffernan | -63.80 | -117.40 |