DFW Riichi Mahjong: Dallas / Fort Worth, TX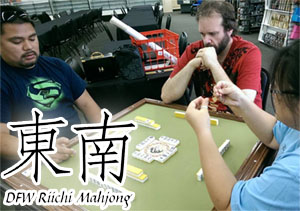 Information
DFW Riichi is an online group formed to help people in the metroplex region find games of Mahjong on a regular basis. Interested people just need to sign up, then they're able to quickly find a game nearby and get playing!
Regular Games
Donnie Clark is the head of Arlington Riichi Mahjong, a regular playgroup formed through DFW Riichi. "We have a great group of friendly players," Donnie says, "I look forward to seeing interest grow throughout the area."
Site
Website: https://dfwriichi.wordpress.com/
Facebook: https://www.facebook.com/groups/801423946579535/
Location / Hours
(contact club for up-to-date information)
DFW is a clearinghouse organization – contact them for a myriad of playgroups, locations, and times available!