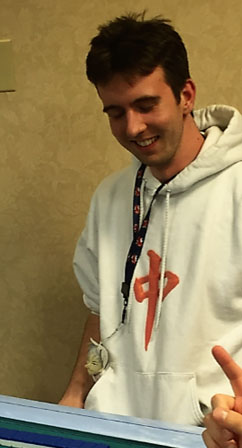 Mid-September, the Pacific Mahjong League hosted an international Mahjong tournament in California – the PML Riichi Mahjong Open 2016. 52 players competed in a sold-out event for a seat at the 2017 World Reach Championship. After two days of play, one person stood above the rest: Charles McDonell!
Charles! Tell us about yourself!
Born and raised in Seattle, went to University of Washington, majored in economics. (My favorite branch of economics was learning about game theory, go figure.) I currently work at Alpha Supported Living Services as a direct support professional helping out developmentally disabled folks which I find enjoyable and rewarding work. I am big into manga, particularly mahjong manga. My favorite mangaka is Nobuyuki Fukumoto who writes Kaiji and Akagi. Those manga were what got me into mahjong in the first place which got me into 1st place in mahjong. (Editor's note: ha!) You'll find me staffing the Mahjong Room at the annual Sakura Con in Seattle and I always try to attend PAX West. Other interests include board games with friends, studying Japanese, animated movies/shows, and [Nintendo] video games.
How long have you played mahjong? Where do you play?
I learned to play mahjong back in the summer of 2011. I don't play much online on Tenhou these days. I go pretty regularly to Monday Night Mahjong in Bellevue held by our club "Seattle Riichi Mahjong Group (シアトルリーチ麻雀同好会)". You can find us on Facebook.
Tell us about the club!
I'm very fortunate to have such a thriving riichi mahjong group so close by. There's a meetup every Monday night which is attended by anywhere from 12-25 players. We have a neat website where we record players scores from Monday night mahjong. (You're welcome to play more than one han chan during Monday night mahjong, but only the first han chan of the night's score is recorded on the website.) I think recording the scores on an online leaderboard is an impeccable way to incentivize people to not play "YOLO style" all the time. People take their games seriously even though there aren't really any stakes. Recently we've started taking the top 4 from the leaderboards every 3 months for a fun "Quarter Championships".
What style of play would you say you have?
Well, I would say I'm a defensive player. I didn't deal into any riichis or large hands during the tournament which was great. I love the pinfu yaku, I try to force it whenever I can. I feel a majority of the hands I have won include riichi and pinfu.
In my group the joke is that my signature special "Saki" mahjong power is that at some point during the game I will be able to tsumo a haneman, which I was able to do once this tournament during the semifinals.
How was the tournament?
Great! Loved meeting new people and playing on automatic tables. Huge props to the hardworking organizers who set everything up and bought all those sweet tables. It's a shame that all the participants don't live right next to each other so that we could all get together for more jansou type action anytime we like.
Tell us about the coolest moment of the event.
The past few days I keep running through the events of South 3rd and South 4th of the finals in my head. Those two rounds were so crazy!!! The follow-up riichi I did in South 3rd was soooooo reckless! Then in the South 4th I was folding, but thanks to some really lucky draws at the end I got to tenpai to get the renchan. Then I finally won that big Toi Toi Yakuhai 3&50 hand. Going for and getting Toi Toi is so rare for me. Those rounds were so clutch I can hardly believe it! Even though I was never able to tsumo, I would say I got incredibly lucky those last few hands.
The semifinal round had some wild moments [as well]. I riichi'd on a pretty poor wait, a kan chan on the 5 sou, and then after my riichi, the other 3 players each ended up riichiing. It was a 4 player riichi roulette for a little while until eventually my toimen dealt in to my shimocha. Later on that game, I riichi'd a few turns after pro player Garthe had riichi'd and ended up ippatsu tsumoing a haneman.
Did you get to meet any other of the pros?
I got to spend some time with all three of them, but I only got to play with Garthe. I was with Jenn during set up the day before the tournament, and I had met her before when she visited our Seattle Mahjong Group in the summer of 2012. She's very kind and friendly, I follow her on Twitter in spite of the fact that she mostly posts in Japanese which I am unable to read. (But I'm working on learning!)
I played against Garthe during free play on Saturday night and in the semi finals, he is such a strong player! Certainly lives up to his title of pro. Also a really cool and funny dude, definitely would want to hang out and grab a [lot of] beer[s] with him.
I got to eat with Benjamin twice at the hotel's restaurant, it was really interesting listening to him share his opinions and stories about certain mahjong rulesets he had encountered. If I could read Japanese, I would definitely check out his book. Plus, it's really cool that he's met my hero, Nobuyuki Fukumoto! Ben was even nice enough to give me his business card and say if I'm ever in Japan to drop him a line.
Looking forward to the WRC?
Yes! I'm excited to see how far my style of mahjong can take me, and to meet with more strong players.
Any shoutouts?
A big mushy shout out to my loving parents Sheila and Colin McDonell who have always supported me and are just incredible folks. I will never stop loving them. Certainly to my mahjong buddy James Bragg who shares my passion for Fukumoto's works. Tuvya Felt for paying for our whole table's meal on Friday night before the tournament, such an awesome guy. My magnificent brother Mickey for buying me that sweet hoodie with the Chun on it. Everyone in the Seattle Mahjong Group for sharpening my skills throughout the years and being generally awesome people. The organizers of the tournament for being excellent hosts. All my friends & family who sent me their energy and support through Facebook/email/text during and after the tournament. And Fukumoto Sensei for getting me into mahjong.
Any tips for people looking to get better?
I would say play on tenhou.net. (Editor's note: Instructions on how to play available on in the Mahjong-NY article Playing Online: Tenhou). Having that time limit ticking down is a great way to force yourself to make decisions quicker. Thinking ahead on which tiles would improve your hand or what tiles you would call on is an important skill to have so you don't do something hasty and regret it later.
Don't deal in so much! I judge whether or not I had a good game based on how many points I lost from someone winning off of my tile. You don't have any control over which tiles you draw, but you can (in most cases) choose among 14 tiles to discard and figure out which one is least likely to cost you points.
Finally, don't get discouraged. Nobody can win em all, just keep on fighting!
Which is better, Head bump or Double ron?
I'm a firm believer in Double ron. If your winning tile comes out you should be paid the points for your hand, it's as simple as that.
Thanks, Charles, and congratulations once again!