The Rochester Riichi Open 2023 has concluded, and out of a 40 player 6-game scramble into a 2-game Top 4 final, Bryce Wyckoff emerged the champion!
The event took place over the April 22-23 weekend, with breakfast and lunch provided. after each day free play was available, with a fast-paced East-only chip focused side event run by Everett Leo for the rest of the players during finals making sure there were high-stakes matches for everyone involved.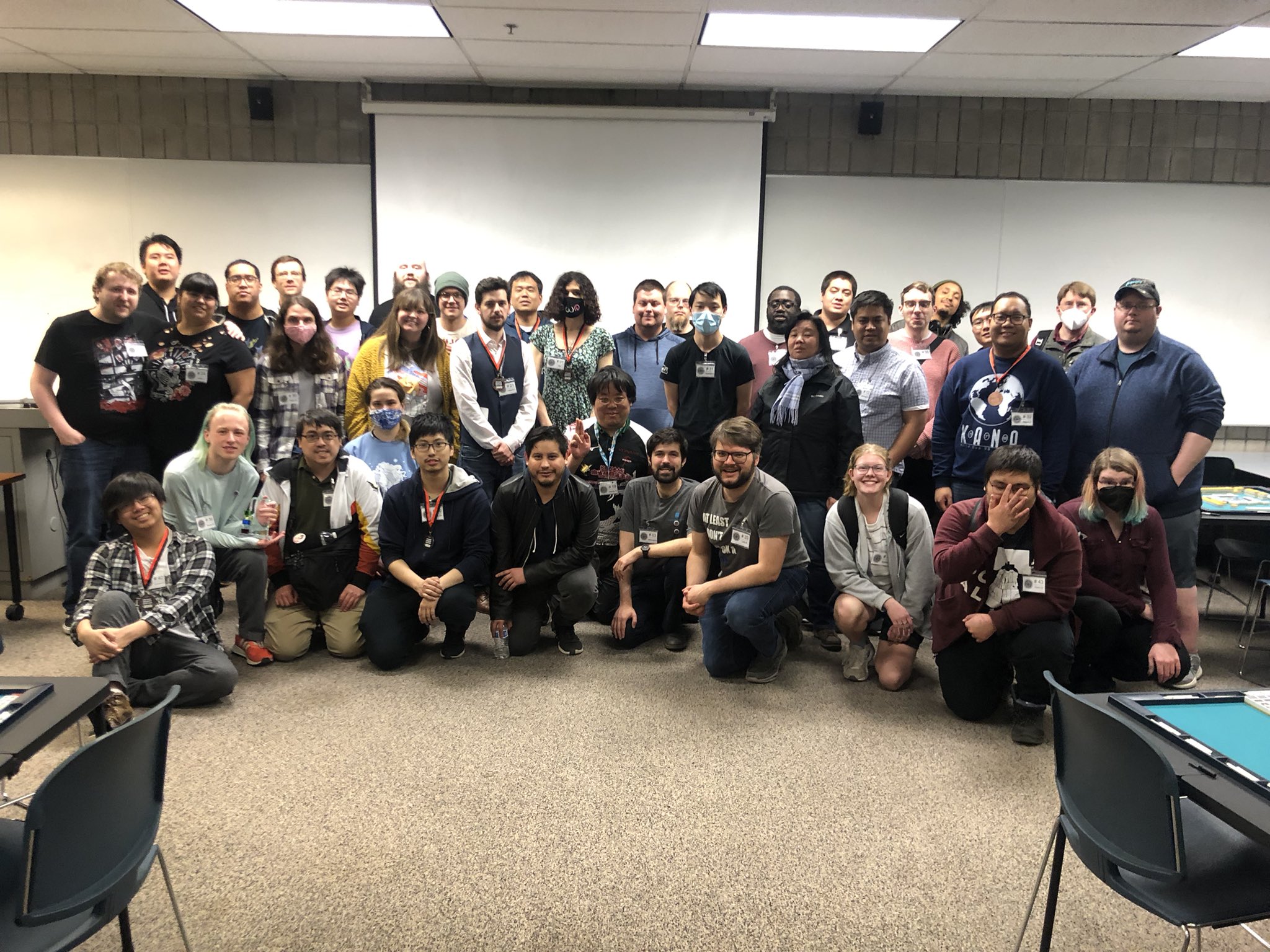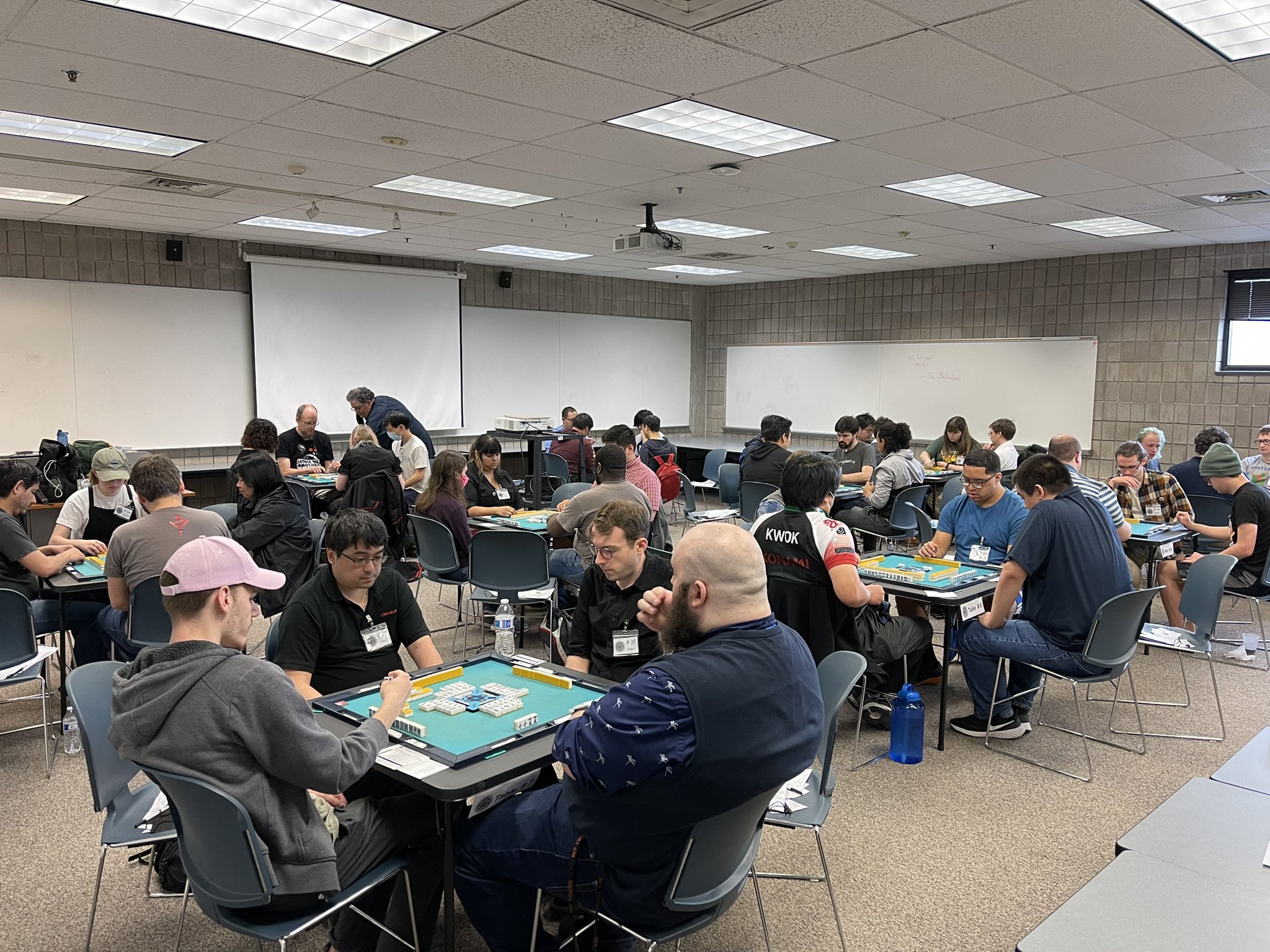 The tournament, partnered with Saikouisen Pro Mahjong and Mahjong Stars, used the Saikouisen ruleset, with large placement bonuses and less restrictions on reaching. This mean that runaway games mattered less to an overall score, and that placements were key. Bryce commented on this, when speaking of his strategy in making it to the finals: "My main goal was to stay calm and try to play mostly like normal, overall playing a little more defensively. I tried to just focus on winning each table one at a time to get the +30 [first place] Uma."
The sponsors also provided lucky-draw items and support, answering translation questions and edge cases within the rules. Players won keychains, points sticks, and apparel.
Bryce, who started playing about a year and a half previous to the event, took a massive lead in the beginning of the finals and defended it until the end. "I was really nervous throughout the entirety of the finals, but I was able to get a few big hands on my dealer turns to get a big lead and hold it until the end of the first game. The second game I was just trying to not deal in and move the game along as fast as possible."
Thanks to everyone who attended, and we will see you all next year!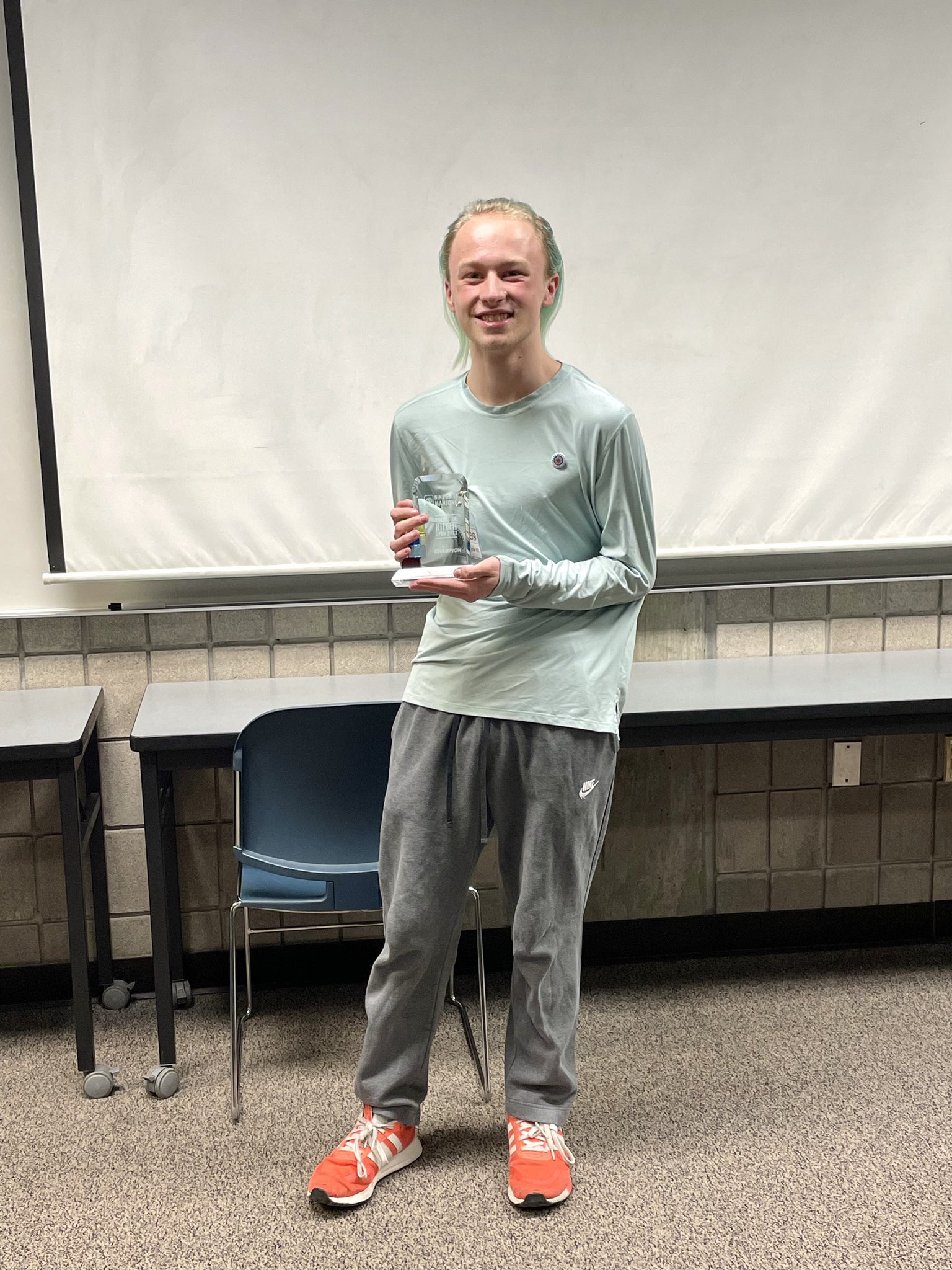 1: Bryce +147.5: +69.2, -12.6 (+56.6)
2: Edward +158.8: -25.2, +39.4 (+14.2)
3: Gaetano +212.9: +6.5, -41.4 (-34.9)
4: Peter +122.2: -50.5, +14.6 (-35.9)
5: Tucker +117.5
6: Vincent +114.3
7: Airi +113.5
8: Melvin +112.5
9: Michael M +110
10: Arthur +99.3
11: Mike L +74.5
12: Grant +68.9
13: Loïc +59.9
14: Cassandra +46.4
15: Sylvie +37.8
16: Dustin +33.6
17: Josh +30.1
18: Ty +24.8
19: Miguel +24.5
20: Estey +9.1
21: Jonathan +7.2
22: Kyle -5.6
23: Zach W -22.6
24: Kayla -24.6
25: Zachary S -26.3
26: Alexandre -53.4
27: JianZhuang -68.9
28: Shan -70
29: Jeremy -70.5
30: Patrick -79.9
31: Allen -84.3
32: Michael H -99.7
33: Lorenzo -105.6
34: Tessa -118.4
35: Cole -128.4
36: Dennis -140.9
37: Riley -152.2
38: Molly -191.7
39: Gavin -239.1
40: Sophia -250.2